Visionary Women April 29th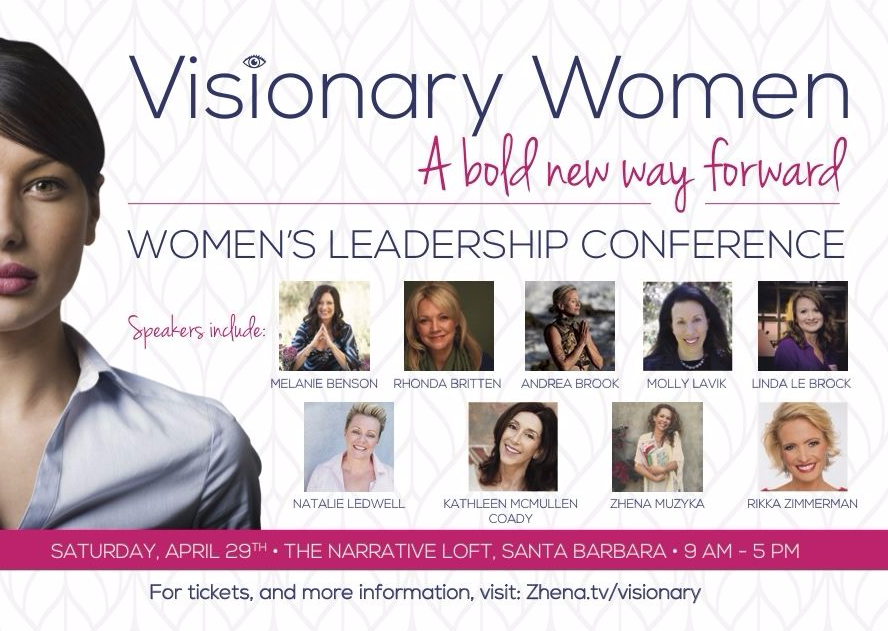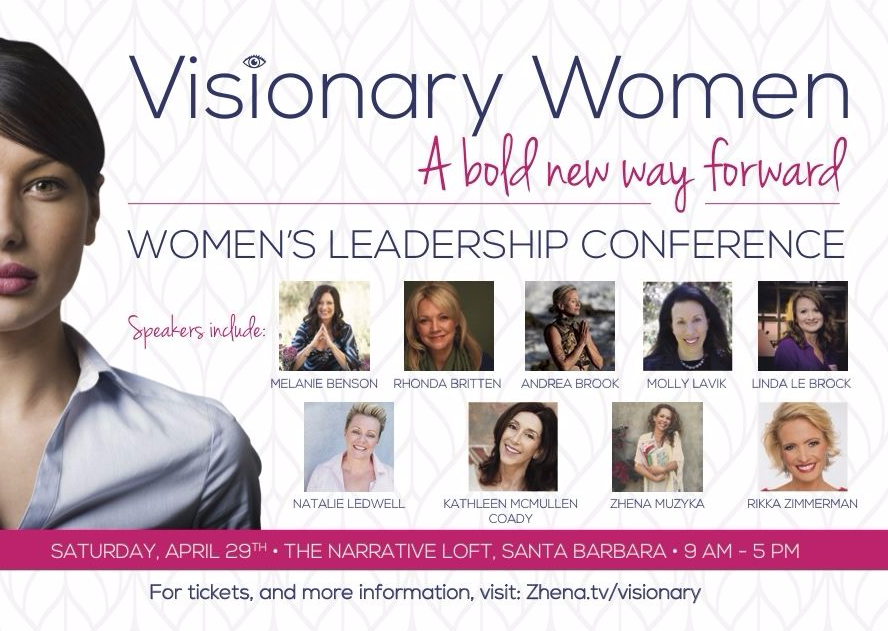 Be Inspired.
Be Enlivened.
Be You.
Join Zhena some of the world's most successful online and offline entrepreneurs, female CEO's, and global coaches in this one-day, joy-filled, information-infused leadership gathering in the fun and funky Narrative Loft on April 29th in Santa Barbara.
Guaranteed to be fun with inspiring, rockstar-level 20-minute talks, mingling sessions, breakout workshops, and laser coaching from the world's greatest women coaches. Say goodbye to boring business conferences & come play!
Learn the laws of reinvention & how to make big moves that win
Find out how to use "setback management" to recover and rock, quickly
Meet the Makers of your favorite products and programs
Discover fresh ways to build your career & feed your soul
Laugh and learn from dynamic motivational speakers
Get coached on the things holding you back from pure joy
Learn the power of personal branding
Unveil your current life's purpose & uncover the ways to fulfill it
Tap your intuition and make the best business & life moves possible
Oh, yeah, and increase revenues for yourself and your company 🙂
Sip wine at the after-gathering wine crawl, and get to know your she-roes
NOTE: SPECIAL EARLY BIRD PRICING ENDS SOON! PRICE GOES TO $297.00
Your ticket includes light breakfast and yummy Mediterranean lunch by Metropulos.
Speakers Include:
Zhena Muzyka
Author of Life by the Cup, publisher of Enliven Books, founder of Zhena's Gypsy Tea
Linda Le Brock
Publisher at Pacific Coast Business Times
Melanie Benson
Inspirational Speaker, Entrepreneur Leader, Profitable Growth and Lifestyle Mentor
Rhonda Britten
Founder of the Fearless Living Institute, inspirational and life changing speaker
Andrea Brook
International performing artist, yoga teacher/life catalyst and public speaker
Christine Hassler
Life coach, speaker and the author of the best-selling books, 20-Something, 20-Everything and the 20-Something Manifesto.
Molly Lavik
Executive Director: Los Angeles Sustainable Business Council & Founder, Ai Showbiz
Natalie Ledwell
Co-founder of Mind Movies, host of The Inspiration Show & global law of attraction expert
Kathleen McMullen Coady
Owner & Creative Director Towner Design Studio
Rikka Zimmerman
Creator of Adventure In Oneness and Life Transformed™, acclaimed speaker and singer/songwriter
Brought to you by Zhena.TV & Linda le Brock, Publisher of Pacific Coast Business Times.
Media sponsorship by Pacific Coast Business Times.